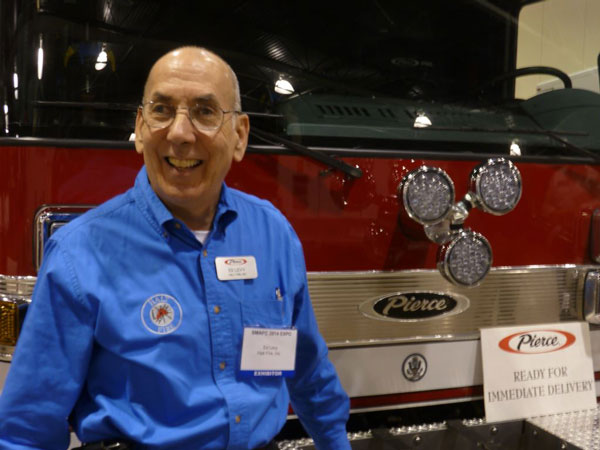 Ed Levy
Pierce Sales Representative
PL Sales Representative
Email: edlevy@haltfire.net
Cell: 248.891.5850
Or contact Halt Fire's main office at 248.669.0800 to leave a message.
Ed spent most of his grade school spare time hanging out at Engine 21, Ladder 28 of the Detroit Fire Department, near his home. Ed's interest with the fire service goes back as far as he can remember, and being a "vehicle kid", he was fascinated by the big red shiny rigs. His big thrill was being in the station when a run came in and the excitement of the firefighters running to the trucks, the sound of the big V-12 engines firing up, hearing the sirens wind up, the bells clanging and watching them roar out the door. He still loves to be in a fire station when a run comes in, only today, it's the sound of big diesels, Q2 and electronic sirens and air horns.
And, while a firefighter career seemed likely for Ed, he also had a passion for cars and loved going to car dealerships. Ultimately, a career in the retail car business is where Ed wound up, eventually owning 3 dealerships with his partner, Bill Golling.
But, the fire service and the rigs were never out of his mind, and in 1983, Ed and his partner, Bill formed Golling-Levy Emergency Equipment and became the State of Michigan dealer for Peter Pirsch and Sons, an old line manufacturer. The business ultimately evolved into a full service fire equipment dealership, offering 3 lines of new fire trucks, 2 lines of ambulances, service and a full array of loose equipment.
After 17 years, time demands of the car business and a corporate pilot career necessitated powering back some and the fire equipment business was closed. The flying career was becoming more time demanding, and in 2007 Ed decided it was time to power back more yet, he sold his half of the car dealerships to his partner.
This did provide for some extra time and in 2009 Ed re-entered the fire truck business as a sales rep for Halt Fire, Inc. Ed's comment was, "he was tired of competing with Pierce and now wanted to be with the best"!
When two older Halt sales reps chose to retire, additional territory was offered to Ed and he made the choice to take on that opportunity and to sell Pierce fire trucks full time.
Today, Ed covers over 120 fire departments throughout lower Michigan and flies his own airplane to facilitate trips to Pierce and PL Custom for himself and the other Halt sales reps.