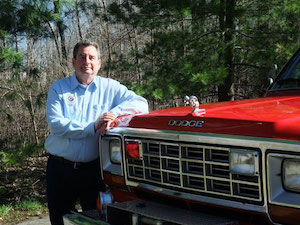 Pat Wright
Pierce Sales Representative
Email: pwright@haltfire.net
Cell: (269) 207-0571Or contact the Halt Fire main office at (248) 669-0800 to leave a message for Pat.
Pat Wright is experienced in gathering your thoughts and ideas and building a Pierce fire truck to fit your needs and budget. Pat started his career in Public Safety in 1977 when he joined the Davison Fire Department just out of high school. In 1979 he formed a relationship with Halt Fire and Pierce Manufacturing with the truck he is pictured with, which is still in service.
Being a Police Officer also, when the City of Kalamazoo combined their police and fire department to form Public Safety this appeared to be a natural fit. Pat started as a Fire Fighter and retired as Executive Lieutenant. Shortly after retiring, Pat was called back to Public Safety to serve as Assistant Chief. Once that assignment was completed, He went on to serve as the Director of Emergency Management for Kalamazoo County.
Pat has represented Halt Fire and Pierce since 2006. Pat is married to Tammy Wright and they have 4 sons and 8 grandchildren.
++++++++++++++++++++++++
Craig McDonald
Pierce Sales Representative
Email: cmcdonald@haltfire.net
Cell: (269) 808-4800Or contact the Halt Fire main office at (248) 669-0800 to leave a message for Craig.
++++++++++++++++++++++++